Words by: Mikaya Kelly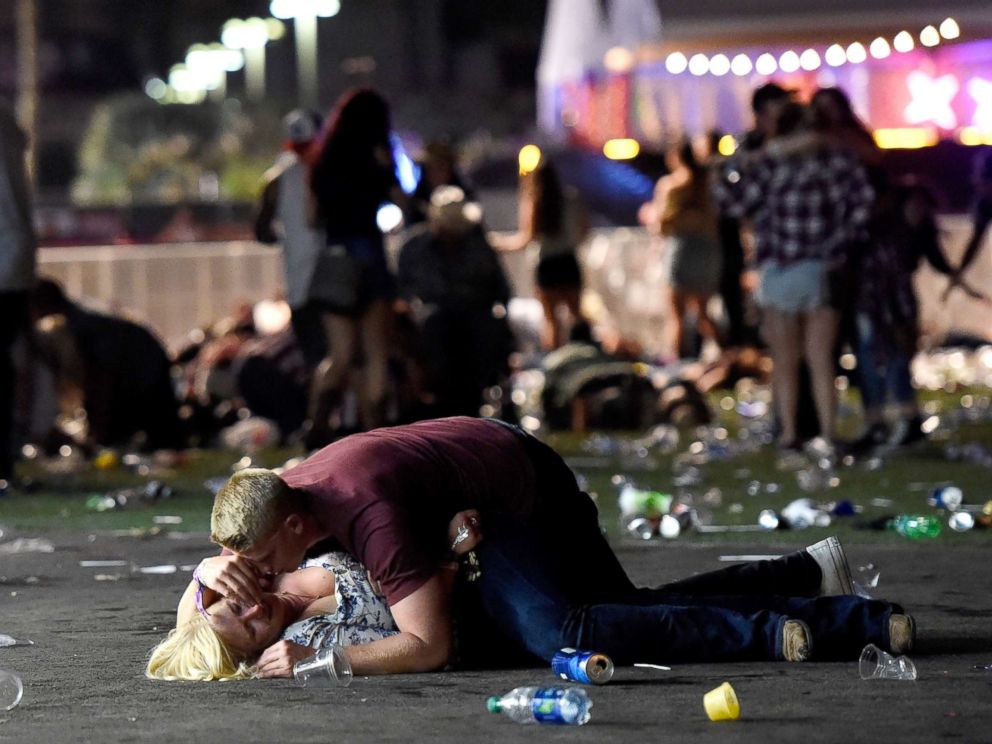 A man lay on top of a woman as others flee.
On the evening of Oct. 1, 64-year-old Stephen Paddock opened fire on concertgoers at the Route 91 Harvest Festival from the 32nd floor of the Mandalay Bay Resort and Casino in Las Vegas, NV. According to The Washington Post, Paddock killed at least 59 people, leaving more than 500 wounded in what is considered as the deadliest mass shooting in modern U.S. history. A SWAT team found Paddock dead in his hotel room with blood spread out behind him mixed with the empty shell casings on the carpet. He had apparently pointed a revolver into his mouth and pulled the trigger.
Sheriff Joseph Lombardo of the Las Vegas Metropolitan Police Department was led to believe that the shooting was pre-meditated. Police say that Paddock arrived on Thursday, just three days before the incident took place to the Mandalay Bay Resort. He apparently took more than 10 suitcases into his suite. Paddock brought with him, 23 guns, some with scopes. The rifle used during the attack was an AK-47 with a stand used to steady it for firing.
CBS News reported that officials found another 19 firearms, thousands of ammunitions, along with explosives in his home at a retirement community in Mesquite, Nevada, about 75 miles northeast of Las Vegas. In his car outside of the hotel, they found ammonium nitrate, which is a chemical used in bomb-making. Police also searched a two-bedroom home that Paddock owned in another retirement community in Reno. No word on if any weapons were found in that home.
Paddock had purchased weapons legally over periods of years from stores far and near, from his home from major retailers, according to law enforcement officials. Authorities also did a search in the law enforcement database to see of he'd ever had any run-ins with the law, which came back negative. Although they did uncover that he was the son of a bank robber who was once on the FBI's Most Wanted list. Despite claims by the Islamic State that Paddock carried out the carnage in its name, investigators found no links to any criminal enterprises or international terrorist groups. Police are claiming that Paddock was a "lone wolf."
According to CNN, Paddock was a retired and twice-divorced accountant with no known children and was a real estate investor who owned houses and apartments. He lived with his brother Eric Paddock for a time in Melbourne, Florida until he moved to Nevada in 2016. He currently lived with his 62-year-old girlfriend, Marilou Danley, who was out of the country in Tokyo during the shooting, but is believed to have not been involved. Paddock was also tracked to have wired $100,000 to the Philippines, but officials do not know precisely when the transferred happened or whom the recipient was. The FBI is working with Filipino authorities to determine details, officials say. Stephen Paddock had no history of mental illness nor did he have problems with drugs or alcohol. According to The Washington Post, a federal law enforcement official said investigators have suggested that Paddock engaged in high-dollar gambling, and they are trying to determine whether he faced financial strains.
Although there were a number of heroes on the ground that flew into action to help the dead and wounded, Lombardo warned that the number of dead in Las Vegas could rise as hospitals across the region continue to treat patients from the scene. President Trump has since ordered for flags to be flown at half-staff and is said to visit Las Vegas this week.